Low cost therapy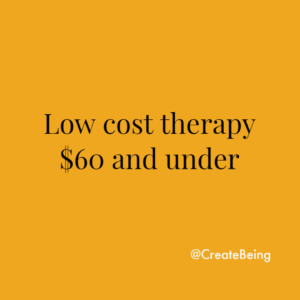 Low cost therapy
One of the barriers we hear about getting professional mental health support is the cost. Finding a rate and relationship that suits you can be overwhelming. In this research, I was looking for anything $60 or under. It lead to the below few resources that are have online therapy so you can have it anywhere! 
Before you find a therapist/counsellor/whoever to help you with you mental health, we created a few things to consider when choosing the right person for you. Go to: What Should I Consider When Choosing A Therapist?
In addition to these few resources below, if you work at a place that has some insurance benefits or Employment Assistant Program that may be able to either give a few free sessions or connect you to getting mental health support. 
Not all of these have been experienced by us, these are collected for you and we encourage you to make your own decisions. The list is in order of the lowest to highest rate we found within the limit of $60. 
Ties Healthy Minds | Alberta ONLY Free | https://www.tieshealthyminds.ca/
The Immigrant Education Society (TIES) is proudly offering educational workshops, counselling and information to help you overcome the mental health challenges of this period. 
MindBeacon | Ontario ONLY Free | https://info.mindbeacon.com/anxiety
MindBeacon's Therapist Guided program is ideal for those struggling with generalized anxiety, panic, and stress. And, it's now free for all Ontario residents, thanks to funding by the Government of Ontario. No payment of any kind is required.
Open Path | $30+ | https://openpathcollective.org/
Our therapist provides affordable, in-office, and online psychotherapy sessions between $30 and $60 ($30 and $80 for couples and family sessions)
Inkblot Therapy | 30 mins for $37.50 | https://inkblottherapy.com/
Virtual therapy that you get matched with immediately and can book. First session is free
Gestalt | $40 | https://gestalt.on.ca/low-cost-therapy-clinic/ 
Supervised student therapists in Years Four and Five of Five Year Training Program in Gestalt Psychotherapy. Fill out their intake form and in 14 business days they will get back to you with a match. 
Affordable Therapy Network | $50+ | https://affordabletherapynetwork.com/
A Directory Of Therapists Offering Low Cost And Sliding Scale Rates Across Canada. Serving Toronto, Vancouver, Halifax, Winnipeg, Victoria, Calgary, Ottawa, Regina, Montreal, Edmonton, Saskatoon, Saint John, Quebec City, Mississauga, Brampton, Surrey, Hamilton, and more. Online Counsellors Available Anywhere In Canada. Low-cost rates ranging between $50- $65 to support those experiencing financial difficulty. Sliding scale rates for those who don't require the low-cost rate, but cannot access standard therapy fees.  Approximately $70-$120 and varies between individual therapists. Those who pay standard rates support our therapists in providing options to those who can't.
Toronto Institute for Relational Psychotherapy (TIRP) | $50 | https://www.tirp-lowcost-therapy.ca
All the therapists listed on this site are students or graduates of TIRP — the Toronto Institute for Relational Psychotherapy (www.tirp.ca). Most practice in Toronto; some have offices elsewhere in southern Ontario. 
Hard Feelings | $60-80 | https://www.hardfeelings.org/counselling/
Counsellors work in a short-term model of practice. We limit counselling to a maximum of 12 sessions so that we can keep our wait times low and support as many people as possible. If you require longer term counselling, we can work with you to help you find what you need. You will be charged $50 (individual) or $90 (family/couple) for your first appointment. During this intake, your counsellor will assess your capacity to pay for counselling and together you will set an ongoing session fee, ranging from $60 – $80 per session for individual counselling and $90 – $110 for family or couples counselling. If you can afford market-rate counselling (generally $125 – $225 per hour), we can suggest counselling options outside of Hard Feelings. Counselling services offered at Hard Feelings are for adults ages 18 and older. 
Canadian Muslim Counselling | $60-$120/session | https://muslimcounselling.ca
Provides a sliding scale that ranges from $60-$120/session. At Canadian Muslim Counselling, our goal is to break that stigma and provide comprehensive, affordable psychotherapy options for everyone. Our fees are 30% less than the industry average. We also provide clients with sliding scale options on top of our reduced fees. Nobody should have to struggle alone – everybody deserves to be healthy, not only in body but also in mind and spirit.
---
---