Food, Mood and Brain Health Event Highlight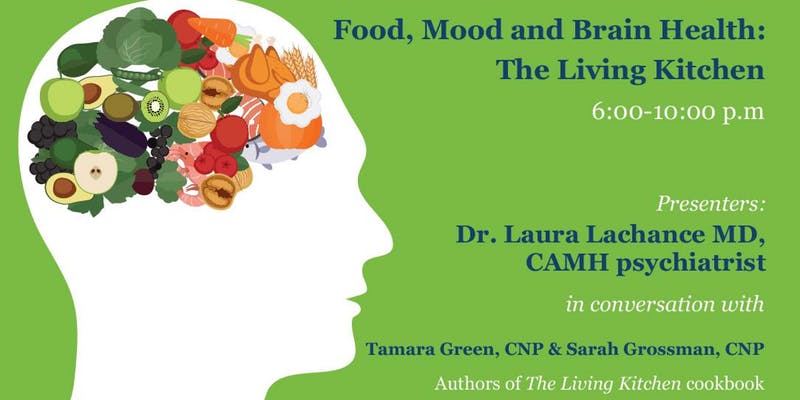 Food, Mood and Brain Health Event Highlight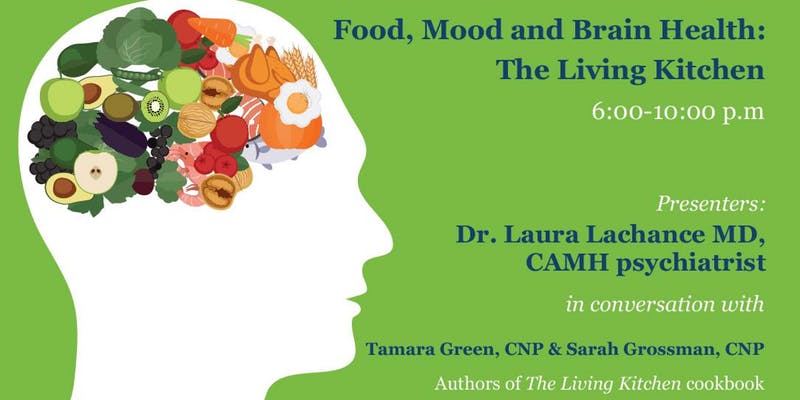 Trigger warning: The type of foods are not mentioned.
When David and I went to a Dinner with the Doctor event last year, we were first introduced to the idea of food being a form of medicine. A medicine that we can choose to select certain foods that can support our physical and mental health in a very natural way (Note: this does not take away from prescribed medication, as always consult with your physician). It was clear to me that what I ate affected how I felt, acted and thought throughout the day are intertwine with my mental and physical nourishment. As I started to think about this idea of food being a part of my self-care plan and mental health health regimen, it occurred to me that my food can really affect how I go about my day.
According to CAMH Registered Dietitian Kelly Matheson, "Nutrition helps with a person's physical health and physical health and mental health are very much intertwined. When you take care of your physical health your mental health benefits and of course vice versa." (original source)
When I eat certain foods, I have noticed after I tend to feel sluggish, apathetic, and basically ready for a nap. Also, if I don't eat when I need to, oh my. You don't want to be around me. I find myself to be mean and unpleasant. I know that eating foods that make me feel good about myself is just that one helpful step to a healthier mindset. My thoughts are not as negative.
So when I saw that Sunnybrook has an upcoming event on June 20 (get your ticket too!) to hear CAMH psychiatrist, Dr. Laura Lachance speak about this topic, I was really intrigued. Dr. Lachance specializes in nutritional psychiatry research and that evening will share the link between nutrition and mental health. Dr. Lachance will also be accompanied by Tamara Green & Sarah Grossman, certified nutritional practitioners and authors of The Living Kitchen cookbook discussing the same topic. This is so exciting! Green and Grossman will be discussing and sharing recipes their new cookbook, The Living Kitchen.
I looked into the cookbook and found out the book is a great guide for people who have gone through cancer. It's good for your mental and physical health.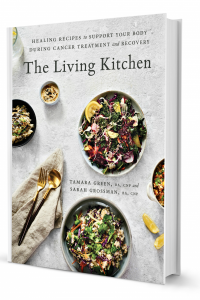 From their website:
The Living Kitchen is more than just a cookbook.  In the first half of the book we've written a detailed guide to understanding nutrition and cancer.
   A minicourse in cancer nutrition
   Menu plans guiding you on what to eat before, during and after treatment
   Recipes include smoothies and elixirs to breakfasts and snacks, soups and stews, main dishes, sides and healthy desserts
   101 foods to include in your diet during treatment and those we recommend eliminating
   How to prepare and stock your kitchen (when you are going through cancer treatment)
   Tips on how to deal with side effects of cancer and treatment
   Specific recipes to help ease different side effects
   Plant based recipes that are gluten free and dairy free (there is one chapter with omnivore options)
Join me on the evening of June 20to bid on awesome silent auction items, hear these specialists discuss mental health and nutrition AND to enjoy a delicious and nourishing dinner prepared by the culinary arts students at Centennial College! I am so excited!
The event is an opportunity to shine the light on mental health issues, reduce stigma and bring the message of hope to patients and families whose lives are affected by mental illness.
This event is brought to you by Sunnybrook's Patient and Family Advisory Council (PFAC- Psychiatry). They promote a culture of patient and family-centered care by working collaboratively with mental health providers at Sunnybrook. The funds raised will support vital programming and services for patients and families on the road to recovery at Sunnybrook Health Sciences Centre. All funds generously support the Sunnybrook Department of Psychiatry Patient and Family Advisory Council.
Thank you again to the team at Sunnybrook for inviting me to this event. Get your ticket and more info information HERE.
Get to know more about The Living Kitchen's Authors
Sarah Grossman
I'm a nutritionist; author, chef and food photographer and good food has always been a huge part of my life. I grew up in the US in a family that was always cooking.  Starting in my teens I struggled with hormonal balance and endometriosis for most of my adult life and it took me many years to figure out what type of "diet" was best for me and that there really is no one size fits all approach to what you should eat. While getting my BA from Hampshire College Massachusetts, I fell in love with nutrition and developed my cooking skills through working in restaurants. Eventually moving to Canada, I become a Certified Nutritional Practitioner at the Institute of Holistic Nutrition and I now love assisting and empowering others to feel healthier and manage chronic health conditions by eating healthy food. I love food photography and you can find my photos on the Living Kitchen blog and social media platforms, as well as on Food Network Canada.  My first cookbook, co-authored with Tamara, is published by Appetite by Random House and available January 2019. I also love getting out into nature as much as possible, practicing yoga, and hosting dinner parties with my partner Daniel. 
Tamara Green
I'm a nutritionist; chef, author and TV host and I grew up loving hamburgers, French fries, pizza and chicken fingers… a shiny example that picky eating habits don't last forever!  Along with my hamburger loving ways, I also suffered from pretty painful digestive issues, eventually being diagnosed with Irritable Bowel Syndrome. I was in chronic pain for 9 years until I turned to food to heal myself. After being completely symptom free since 2008, it's my passion to assist people to eliminate pain, find health and eat nourishing, real good food. I got my BA (Hons.) from McGill, went to the Institute of Holistic Nutrition to become a Certified Nutritionist and I'm a chef. I combine my knowledge of nutrition and passion for cooking to work with clients to create lasting changes in their lives. A few other fun facts: I'm a mama, I hosted a TV show called Home Cookin', Sarah and I create recipes, write and photograph delicious food for Food Network and we're publishing our first cookbook with Appetite by Random House in January 2019.
---
---