FILM FRIDAY: The Darjeeling Limited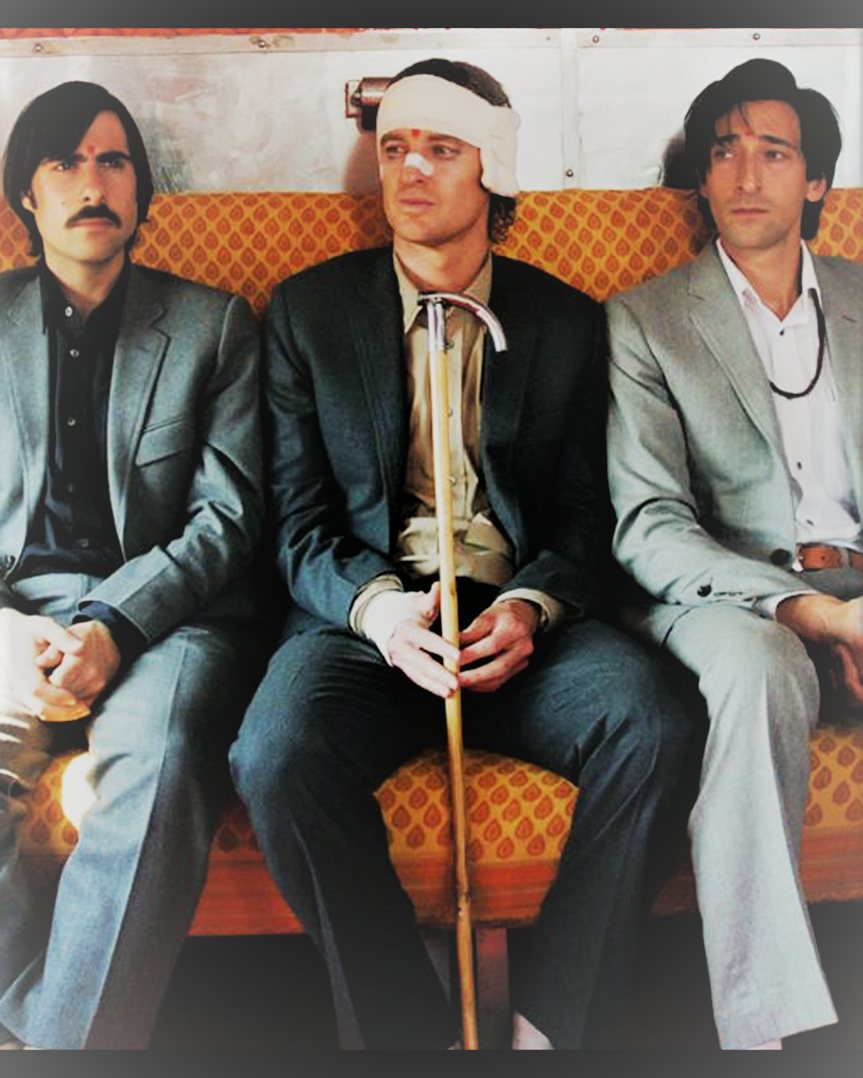 It's on the Itinerary under
TBD
If you couldn't tell already, I am a lover of Wes Anderson's films. The one that stole my heart is The Royal Tennambaums. We will save that one for another day.
I want to introduce to you The Darjeeling Limited (Wes Anderson, 2007) starring Owen Wilson, Adrian Brody and Jason Swartzman. Three estranged brothers go on a trip to reconnect. Unknown to Peter (Brody) and Jack (Swartzman), Francis (Wilson) organizes this trip through India by train. Like most Anderson films, you are guarenteed to see something visually stunning. Whether it is the god-view camera shots, the clever dialogue, quirky characters or the gorgeous selection of colour, you expect beauty in ever shot of an Anderson film.
Like most coming of age films, the young/youth always finds themselves through an experience by the end of the film. Though these are grown men, I believe a coming of age film is exclusive to teenagers. Even though that is what we typically see. Frankly, I think in some way all films are coming of age. Everyone has to go through something, ideally learn from the lesson and develop a better sense of self. This is likely a theme you will see in the films I choose. This is the kind of stuff I like to see in film, and life!
In my opinion, the film is divided in these few themes:
Lone Wolf: The unknown, distrust, segregation, sense of control, individual
The Pack: A group experience – connection, growth, trust, teamwork
Love & Understanding: Letting go and moving forward
F*CK THE ITINERARY | I LOVE YOU, BUT I AM GOING TO MACE YOU IN THE FACE
The first words spoken by our main character is from Peter. He finds their train cabin that becomes their home for the next few stops and sees his brother sleeping. This is their first time since their dads funeral a year ago that he sees Jack. Peter says, "Wake up, Jack." Jack wakes and smiles. They both pull out a cigarette and enjoy this moment of connection. The idea of being awake for an experience and adding a new character (in one's life and in film) begins a new element in the reality. We are brought into their connection.
As the three brothers get reaquainted, you can sense the push and pull of power within the three siblings. Francis takes the time to plan out this whole trip so that he can feel like a family again after years of separation.
WE HAVEN'T LOCATED US YET | …BE OPEN AND SAY YES TO EVERYTHING EVEN IF IT'S SHOCKINGLY PAINFUL

The train is lost, "How can I train be lost? It's on rails." In life we tend to think we are going on a track and yet we don't always know where we are going. This is exactly the scene that shifts the film into the second theme of gaining trust and connection.
A tragedy creates a sense of family and togetherness with these three. They worked together to save three other brothers; but were only able to save two.
I GUESS I'VE STILL GOT SOME HEALING TO DO | IT WILL ADD A LOT OF CHARACTER TO YOU

They finally get to their destination. Visiting their mother (Angelica Houston), now a nun and confront her as to why she did not go to their father's funeral.  "The past has happened…maybe we can express ourselves freely without words." They sit across from each other (like that 70s Show style) and look into each other's eyes. Tearful, sad and comforting, they share without speaking. After getting closure from seeing their mother they continue their trip together.
Even when bandages are taken off and a sense of growth is understood, there is always room to continue the trip of self discovery. Whether you are on this train alone or with another. We continue to understand ourselves in this journey of life. One stop at a time.
"So long, Sweet Lime."
A
Hotel Chevalier, Wes Andereson
As a fan, if you do not have the opportunity to see the extra features you may not get the chance to see the short film before Darjeeling. I am happy to share it here with you. It adds a bit more of the back story for Jack and a bit more understanding when you watch the feature.
You will also have a better understanding why you see Natalie Portman in the ending montage.
Enjoy!
---
---