Multilingual mental health and community supports in the Greater Toronto Area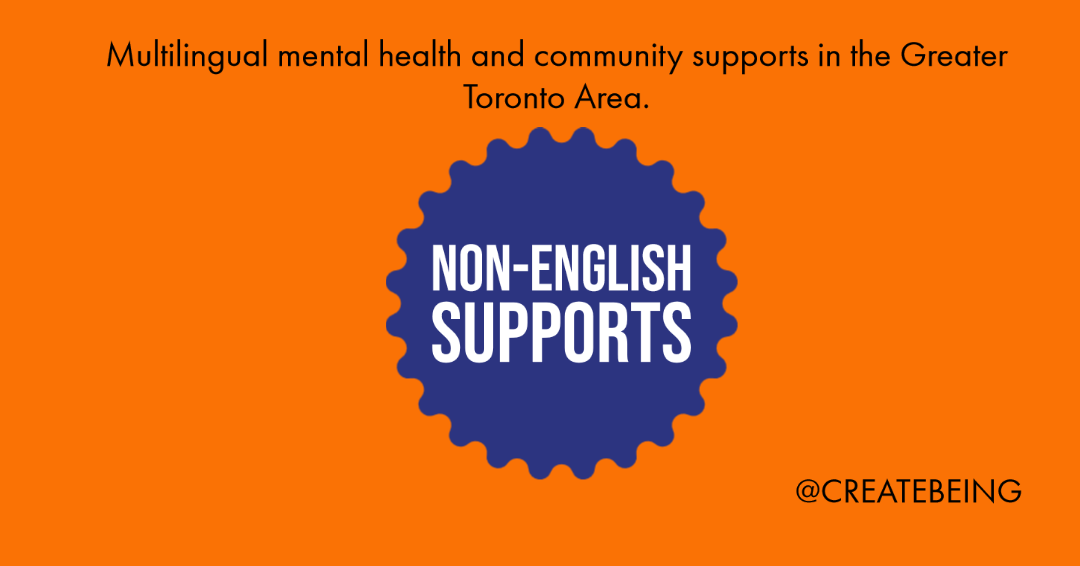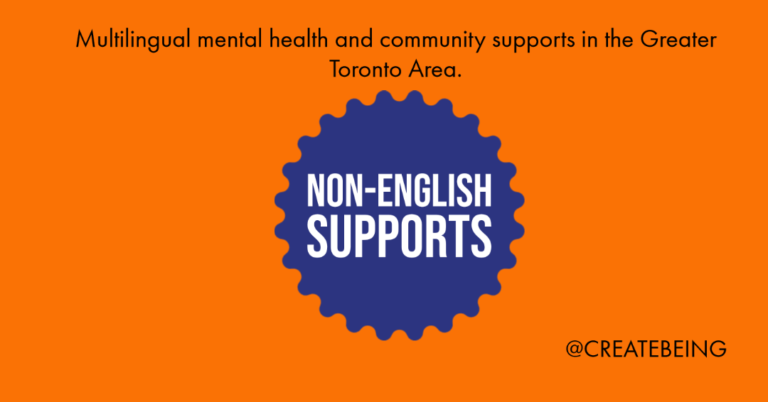 Multilingual mental health and community supports in the Greater Toronto Area
General mental health resources are great but sometimes you just want to connect with someone that speaks your language. This list is of GTA (Greater Toronto Area) organizations, mental health services and translators.
We've sectioned these resources in no particular order. This document can be updated and added to. If you have any that you think we should add, please let us know. We are not linked, sponsored or associated with any of the organizations or services. Any updates or changes should be addressed to them and kindly notify us so we can update our list.
Across Boundaries provides equitable, inclusive and holistic mental health and addiction services for racialized people across the Greater Toronto Area. Across Boundaries currently provides services in many languages, including:
Caribbean Dialects
African Languages – Shona, Amharic, Harare, Xhosa, Tsonga, Afrikaans, Swahili, Somali, Twi
Central Asian Languages – Dari, Pashto, Farsi (Persian)
South Asian Languages – Punjabi, Hindi, Urdu, Bengali
South East Asian Languages – Mandarin
Hong Fook Mental Health Association
Hong Fook, meaning "Health" and "Felicity" in Chinese, has been serving the Asian communities in the Greater Toronto Area since 1982. We strive to address the mental health concerns of the Cambodian, Chinese (Cantonese and Mandarin), Korean and Vietnamese communities.
Spectra Helpline
Serving Mississauga, Brampton and Caledon. Offers 24-hour, anonymous and confidential distress and emotional support lines for anyone who needs a caring, compassionate, and non-judgmental listening ear.
English, Punjabi, Urdu, Hindi, Spanish & Portuguese (Mississauga & Brampton) 905-459-7770 English (Caledon) 416-920-0497
Mandarin & Cantonese 905-278-4890
South Asian Community Health Services (647) 718-0786
Offers culturally and linguistically appropriate services for the South Asian community including primary health care, mental health and addiction counselling. We offer our services in Hindi , Punjabi, Urdu, Tamil, Gujarati, Malayalam, Arabic, French and English.
Community Family Services of Ontario (416)979-8299
Formerly Chinese Family Services of Ontario, this agency offers group, individual and family counselling. English, Cantonese, Mandarin, and Vietnamese. Services are free and confidential. https://cfso.care/
Brampton Multicultural Community Centre (905) 790-8482
Offers a culturally sensitive and linguistically appropriate Mind Your Health program including counselling, peer support groups, mental health workshops and life skills training. This service can be offered in Punjabi, Hindi and Urdu upon request.
Malton Neighborhood Services (905) 677-6270
MNS supports the creation of connected, safe, and strong communities by offering and engaging in activities that recognize and respect the diversity of the neighbourhoods it serves. Services are available in many languages including Somali, Twi, Hindi, Punjabi, Urdu, Tamil, Arabic, Tagalog, Spanish, and Italian. A range of youth services and programs are available. The Black Family Support Program services families living in Brampton and Mississauga and offers counselling, advocacy, information/referrals, drop-in and support for parents.
Language services/ Interpretation available
WheretoStart.ca Access to mental health services for children and youth (Peel)(905) 451-4655
Central access point for free and confidential mental health services for children, youth and families who live in Peel Region. When you call us, we will listen to your concerns and help connect you with the most appropriate mental health program or service for you. Intakes are scheduled by telephone (905-451-4655) or requested online. Interpretation services including sign language interpretation can be provided upon request. Intake conversation is collaborative and involves questions regarding client identity, culture and background so clients may express their needs and preferences. Information/referral to culturally relevant services and agencies also available.
Access Alliance Language Services (AALS)
AALS has been offering high quality language access services to health care, social service agencies, and the broader public and private sectors in the Greater Toronto Area since 1990.
COSTI Immigrant Services is a community-based multicultural agency providing employment, educational, settlement and social services to all immigrant communities, new Canadians and individuals in need of assistance.
Read About COSTI in: Chinese (Simplified) | Chinese (Traditional) | Dari | Farsi | English | French | Hindi | Italian | Portuguese | Punjabi | Somali | Spanish | Tagalog | Russian | Turkish | Urdu |
Language bureau for translations and other services http://www.costi.org/lb/languagebureau.php
The Indigenous Network (905) 712-4726 or @AboriginalPeel on Twitter Offers a Friendship Centre, access to a resource coordinator for culturally relevant supports and a healthy living program.
Islamic Social Services and Resources Association
I.S.S.R.A. is a non-profit organization committed to serving individuals, families and communities who are vulnerable, in distress and lack access to other services because of obstacles of culture, language, race, poverty, gender, or other barriers.
Anishnawbe Health Toronto 416-360-0486 or 416- 920-2605
Offers a mental health treatment model that integrates traditional and western approaches, primary health care and a wide variety of programming across three sites in downtown Toronto. Who can access services at AHT? First Nations, Inuit or Metis Peoples (status or non-status and their families).
---
---