Black Artists, Entrepreneurs, Mental Health Community and Resources
(Ongoing List of)Black Artists, Entrepreneurs, Mental Health Community and Resources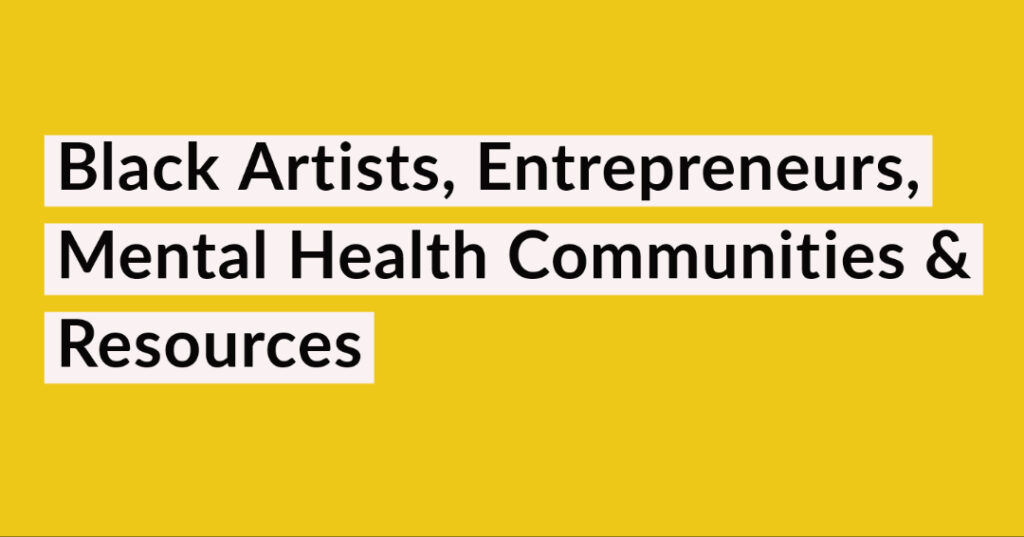 Black Lives Matter. Black Representation Matters.
I have gathered the Instagram accounts of friends and friends-of-friends who identify as Black. They include artists, entrepreneurs and mental health advocates and organization. Each account and person listed has given CreateBeing permission to be added. The response has been overwhelmingly positive and I am so proud to see so many creative, innovative and engaging accounts to share with you. Please follow, acknowledge and listen to the many wonderful voices here. Of course, the list is ever growing and as more responses come in, they will be added below.
I recognize that these artists, entrepreneurs and mental health organizations are not limited to the category listed. It is just easier to organize than one whole list. The list is in no particular order. If you have any account to add to the list please contact Amanda.
Artists
@shyl_777  Bipolar Jazz Rapper tells swag Stories through hip hop, mental health advocate. Rap to change the ?
@shopapanaki We offer textile art workshops, one-of-a-kind, soft furnishings, accessories and fine art!
@sydelliandiaye Spoken Word Artist and Talk Show Host
@royadelsol Photographer and Art Worker
@sincerelytobi Musician/Artist
@daintysmith Actor. Performer. Playwright. Producer.
@sketchoneartworks Painter, Cartoonist,Graphic Designer, Caricatures and Tattooist
@queerblackawkward Queer Black Awkward podcast
@therealshaneg Performing Artist
@haviahmighty Musician and Outspoken Artivist 
@andreathompsonpoet Poet, Novelist, Believer, Award-Winning Spoken Word Artist
@anarchistgalaxy Work By Shiann Nias For COMMISSIONS: [email protected]
THE ANARCHIST GALAXY is the world beyond Earth. Its creatures chill here. 
@cabbie96 -CABBIE96 is a composer, producer, and instrumentalist based out of Rexdale, Toronto.
@nyotaparker Rap Artist, Vocalist, Lyricist
@Eklipz1 Eklipz is a multi-discipline artist who allows his creativity to flow in many different streams and mediums
@Poplopicasso Making your visions in funko pop form actuality with high quality customization. 
@zyraleevanity Multi Award Winning International Burlesque Artist & Cabaret Entertainer
@ianketeku  poet and multimedia artist
@theperlenoire Perle Noire is a transformational coach who believes that your relationship with your reflection is the blueprint for all connections to follow. Perle Noire specializes in Burlesque inspired healing rituals, affirmations, guided touch and meditation. Feel free to make the revisions necessary for IG. Thank you for your support and consideration.
@Betsyswoon Artist, Performer

@capricornspoons Tender feral with a few spoons and the ability to share ice cream/throw rocks/start flames
@m.i.blue With influences ranging from jazz, R&B and her own Eritrean roots M.I.BLUE, an interdisciplinary artist who's practice includes film, instillation and music is known for her alternative-soul and r&b infused sounds that explores themes of healing and self reflection.
@ambient_artist Toronto based illustrator and designer
@djdem.ones DJ
@dollfacedrediemua Singer and Make Up Artist
@Adubea_x Barber and Hair Stylist. What inspires me to do what I do is my desire to make people feel good and proud of who they are and what they look like.
@dwayne_morgan  Writer, Speaker, 2 time Canadian Poetry Slam Champion, Scarborough Walk of Fame Inductee 
@ravynwngz Empowerment Movement Storyteller, Activist, Burlesque Artist, writer, Wildseed centre for art and activism space coordinator
@Jwyzejelani J Wyze is a writer and emcee whose art examines the now and tries to see a short way into the future.
@Echoxeffect Echo Effect is an enthusiastic spoken word artist who is from Mississauga! She's fallen in love with spoken word and is determined to inspire and make an impactful change through her artform.
@teefergus Multi dimensional artist, Tattoos, Paintings and Illustrations
@Amplifycollective  Amplify Collective is a wearable art and performance brand who curates immersive experiences and one of a kind pieces. We have pivoted our efforts to making masks for Michael Garron Hospital and those in need.
@kolorbrown Artist Entrepreneur
Entrepreneurs
@Amshina Apparel & Accessories "Rediscover your wardrobe with Print & Colour"
@carnivalspice Fitness & Entertainment with a Caribbean Carnival Twist
@simplyshakera Shakera Martin; Movement Coach & Founder of @CarnivalSpice fitness & entertainment. Web; simplyshakera.com & carnivalspice.com
@queerqueenstravel a travel group for Queer Women of Colour
@orionriseproductions Founded in the city of Toronto in 2018 by Orion Mayas, Orion rise productions was created out of frustration for authentic & realistic representation of marginalized minorities in media. Our mission is to reconstruct the preconceived biases by producing diverse content. Our services include episodic series, films, documentaries & podcasts.
@whengirlsto We believe in creating safe space to empower diverse girls. We host events, provide access to resources & promote sisterhood.
@thewellcollectiveto Decolonizing and shifting the wellness narrative
@Keishapinto Luxury lifestyle event planning and management firm that curate event experiences for high profile brands, organizations and individuals.
@toni_marlow_co Gender Affirming Underwear brand
@hollywoodglassandmore Glassware
Mental Health Community & Resources
@bikodesigns Founder and President of Trans Workforce, | Biko's Linkedin Profile@stacyannbuchanan Actress, Mental Health Advocate, Filmmaker, TEDx Speaker
@space.parties Our events connect you with therapists, coaches, counsellors, healers & future friends!
@sarahnhrowe Mental Health Advocate and Filmmaker
@nerdy.black.guy  Mental Health advocate 
@heartofaman_   Mental Health advocate – Helping men overcome inner battles and understand the power of vulnerability.
@trinity.connects Improving your health and wellness, offering health and wellness workshops

@thedignityeffect Helping you build an emotional legacy found on dignity.
@theworthyreminders For when you need to be reminded of your dopeness.
@abmentalhealthcentre  We are leaders in providing equitable, holistic mental health and addiction services for racialized* communities. Website
@liftedbypurpose provides innovative trauma-informed mental health & wellness programs/services using the arts 
@butilovememore Leadership Development Facilitator
@themostnurtured The Most Nurtured is a community-based wellness by and for Black women/femmes/non-binary in Toronto.
@thereiqueer Alternative & Holistic Service, Holistic health educator
@blackwomeninmotion Black Women in Motion is a Toronto-based, grassroots organization that empowers and supports the advancement of black womxn and survivors of sexual violence. We work within an anti-racist, intersectional feminist, trauma-informed and survivor-centred framework to create culturally-relevant content, educational tools, healing spaces and economic opportunities for black womxn. See below for more:
How to Support Us
We accept donations online, on our website via PayPal. E-transfers can be sent to [email protected]. We have also partnered with our Organizational Mentor, St. Stephen's Community House (Reg. #:11920 1960 RR0001), to receive larger donations on our behalf and provide charitable tax receipts. 
Please donate at this link: 
https://www.canadahelps.org/en/charities/st-stephens-community-house/
IMPORTANT: 
From the Drop-down Tab, select "General" 
In the Message for this Charity section, please write "Black Women in Motion"
Donations received will be funnelled into one of four major streams of our work:
Black Peer Education Network Program (BPEN)
The Black Peer Education Network is a 6-month employment and training program for Black womxn, femmes and non-binary youth between the ages of 16-29 living in Neighbourhood Improvement Areas and/or Toronto Community Housing communities. The program provides learning spaces for Black youth to collectively work through dismantling and challenging rape culture within the black community, by encouraging critical conversations about gender-based violence, anti-black sexism, patriarchy, white supremacy, consent and bystander intervention. 
Research & Reform Project 
Collecting race-based data in the City of Toronto and Greater Toronto areas to determine the correlation of poor social determinants of health outcomes to incidences of gender-based violence in black communities. 
Black Youth Employment Assistance Program (BYEAP)
The BYEAP works specifically with Black/Afro-diasporic/Afro-Caribbean and/or Afro-Latinx youth, between the ages of 16-29, who live in Toronto Community Housing communities. The BYEAP builds on the model of a traditional Employee Assistance Program that provides "confidential, short-term, culturally-centered counselling service for clients with personal and/or mental health-related challenges that affect their work performance and/or employability". We work with 30 youth per year, providing justice and mental health support, employment focused training opportunities, access to psychologist/therapist and job placement post program. 
Black Women in Motion Love Offering Community Fund
We are working with FoodshareTO to get Fresh Food Boxes and $100 Mastercards to Black 2SLGBTQ+ folks in the City of Toronto and Greater Toronto Areas, who are experiencing food and income insecurity as a result of COVID19.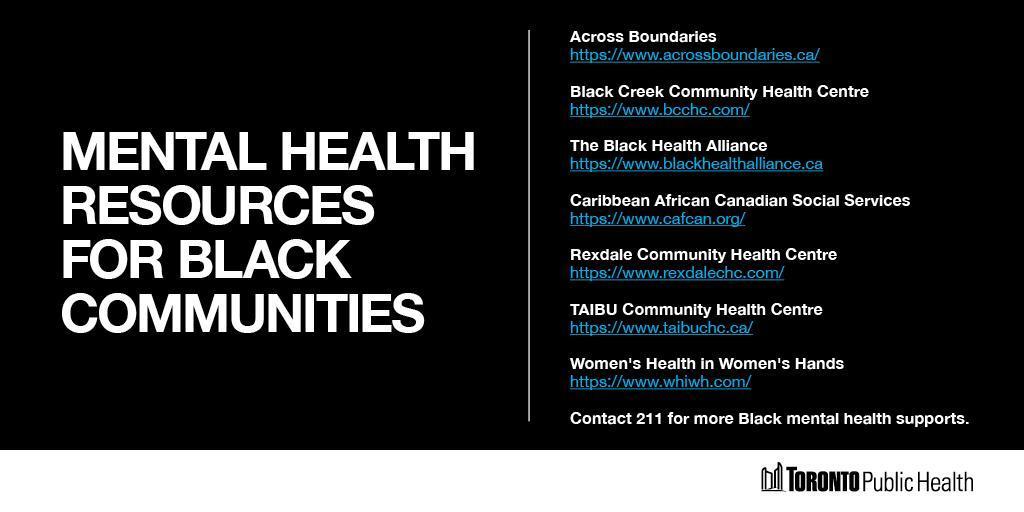 Articles
---
---