guided online series in May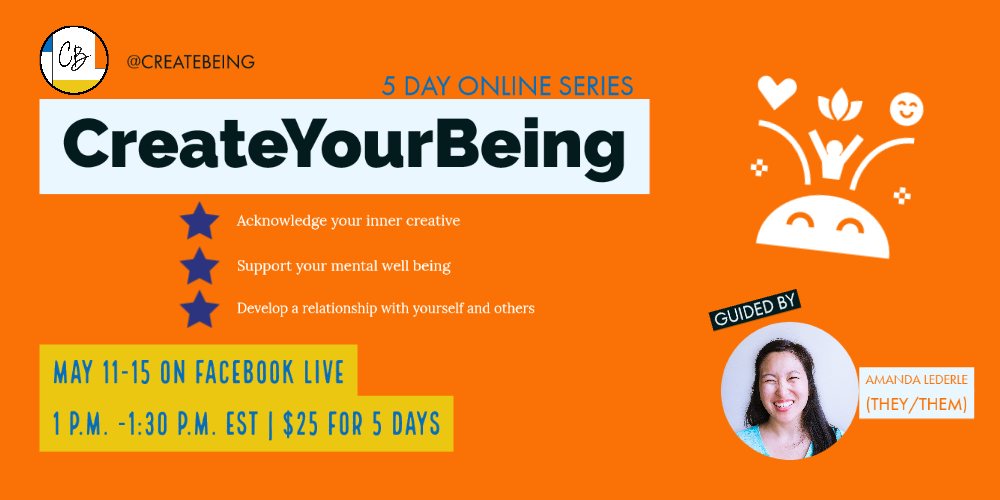 We certainly miss seeing you folx in person. Just because we are physically apart doesn't mean we to be emotionally. We created this 5 day series to connect us together and to support your mental wellness through creative expression.
During the week of May 11-15, starting at 1:00 p.m., Amanda will go live for 30 minutes on our CreateYourBeing private Facebook group. Your membership will give you access to this group and the conversations and posts available only to members.
CreateYourBeing is your guided development series. We provide topics to:
Acknowledge your inner creative
Support your mental well being
Develop a relationship with yourself and others
Your $25 membership gives you access to all of the videos after the live stream and on going connection to other community members. If you can't join us live or want to re-watch videos, you will have exclusive access.
BONUS! The first 10 members to sign up will get an optional complimentary 30 minute coaching call with Amanda! As an Active Listener and Accountability Coach, Amanda can support you with a current project, your everyday routines and be a gentle listener.
Want to buy reserve a spot for a friend or donate to give a community ticket? Give the gift of self-development to a loved one or stranger. Select your ticket option to give a gift.
Got questions? Go here.
Here is our line up:
Monday, May 11 Create a Self-Care Intention statement 
Tuesday, May 12 Creative Thinking + Scavenger Hunt: Utilizing creativity and materials at home
Wednesday, May 13 Productivity-Schmoducitvity: How to release the need and the anxiety to create
Thursday, May 14 Guide to create a Pandemic Self Care Plan
Friday, May 15 Support System: who and what resources are available to me and how can I support others
What if I want to attend only 2? Do you offer drop-ins?
Your $25 gives you access to the full week, you can join as many or little as you would like. You can review the others you can't attend live. If you are interested in a drop in, let us know so we can keep it in mind next time.
Funds are a barrier for me, do you have community tickets?
We want to make sure this is accessible to folx. If funds are a barrier, please email us to let us know. We have set aside a couple of community tickets.
Don't worry about that! We are using Facebook as a way to have a private space for us to safely engage with one another and to post videos. When you sign up, just let us know if you don't have a Facebook and we will share the videos with you so you don't miss out!
Will this be offered at another time?
We are not sure. We will have to see how this goes. We are offering this for the first time and though we hope to have future dates we are uncertain at this moment.
Do you have other online programs?
Yes! We have a program on Teachable.
We know that during this time, it may feel like the future is uncertain. We feel it too,  though we are not in control of what happens outside of us, there is one thing we do have control over: ourselves.
How we think of our futures and seeing it from a place of abundance can support the way we see our present.
We created an online guide to walk you through the steps to support you to create your goals.
What to expect:
Imagine what your future looks like in 10 years.
Create a story for your future.
Outline your 1, 5, 10 year goals.
Focus on three aspects of your life (Career, Relationships, Health)
Construct actionable phrases for each goal.
Share your goals with our online community.
You have access to it 24/7.
There are no zoom meetings or 'homework' to submit.
This is for you at your own pace, whenever you want it, it's here for you.